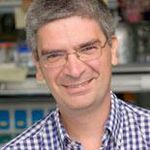 Sandro Banfi
e-mail:
banfi AT tigem.it
affiliation:
TIGEM Napoli
research area(s):
Computational Biology
Course:
Computational Biology and Bioinformatics
University/Istitution:
Università di Napoli Federico II
Position: Associate Investigator; Telethon Institute of Genetics and Medicine (TIGEM), Naples; Assistant Professor, Medical Genetics, Second University of Naples, Naples, Italy

Education:
a Years: 1983-1989, Federico II University, Naples, Italy, School of Medicine: Medical Degree.
b Years: 1989-1993, Federico II University, Naples, Italy: Residency in Neurology.
c Years: 1989-1991, Federico II University, Naples, Italy: Post-doctoral fellowship. Area of studies: Clinical evaluation of patients with inherited ataxias. Host: Professor Giuseppe Campanella.
d Years: 1991-1994, Department of Pediatrics, Baylor College of Medicine, Houston, TX, USA: Post-doctoral fellowship. Area of studies: Cloning of the Spinocerebellar Ataxia Type 1 gene. Host: Professor Huda Y. Zoghbi.

Employment:
a Years: 1995-2000, Researcher, Telethon Institute of Genetics and Medicine (TIGEM), Milan, Italy.
b Years: 2000-present, Associate Investigator, Telethon Institute of Genetics and Medicine (TIGEM), Naples, Italy.
c Years: March 2011-present, Assistant Professor, Medical Genetics, Department of General Pathology, Second University of Naples, Naples, Italy.
FUNCTIONAL GENOMICS. EYE DISEASE

The progress of the Human Genome Project in the last ten years led to a revolutionary change in the strategies used for identifying and cloning genes. We focus our efforts towards a more efficient exploitation of public sequence databases in order to identify, by means of bioinformatic tools, genes, either coding or non-coding, of high biological interest and possibly involved in the pathogenesis of human eye inherited disorders, with a particular focus on eye disease.

Inherited eye diseases are a common cause of visual impairment in children and young adults. The molecular causes of the majority of the more than 200 eye disorders recognized thus far have not been elucidated yet. We are currently committed to identify and characterize, in a systematic manner, a number of genes, both coding and non-coding, that are specifically or predominantly expressed in the eye and can therefore represent candidates for inherited eye disorders. The identification of these genes relies on bioinformatic analysis of public databases, both containing genomic and cDNA sequences. We are testing the possible involvement of these candidate genes in eye inherited disorders by carrying out extensive mutation analysis in collections of patients with either retinal degeneration or eye developmental anomalies.

We identified and started to characterize a set of natural antisense transcripts (NATs) associated with transcription factors that play an important role in eye development and function. We are currently focusing our efforts toward the elucidation of the role of microRNAs, small, endogenous RNAs that negatively regulate gene expression post-transcriptionally by binding to target sites in the 3' untranslated region (UTR) of messenger RNAs, in eye development and function. We identified seven microRNAs expressed in the eye with diverse and partially overlapping patterns, which may reflect their role in controlling cell differentiation of the retina as well as of other ocular structures. More recently, we demonstrated, by using variety of in-vivo and in-vitro approaches that one of these microRNAs, i.e., miR-204, regulates multiple aspects of eye development.

One of the most important information to gain insight into the function of specific microRNA is represented by the identification of their mRNA targets. Towards this goal, we also developed a novel strategy combining expression data analysis and sequence prediction softwares. The results of our prediction are publicly available at http://hoctar.tigem.it.

Relevant databases generated by this lab:
Host gene Opposite Correlated TARgets databases (http://hoctar.tigem.it)
COmparative GEnomics MIcroRna database (http://cogemir.tigem.it)
MicroRNA expression atlas in the murine eye (http://mirneye.tigem.it)
RP Gene expression Atlas Database (http://www.tigem.it/RPexp/)

- Karali M, Peluso I, Marigo V, Banfi S. (2007) Identification and characterization of microRNAs expressed in the mouse eye. Invest Ophthalmol Vis Sci. 48(2): 509-15.
- Trifunovic D, Karali M, Campogampiero D, Ponzin D, Banfi S*, Marigo V*. (2008) A high-resolution RNA expression atlas of Retinitis Pigmentosa genes in the human and mouse retinas. Invest Ophthalmol Vis Sci. 49(6):2330-6.
- Maguire AM, Simonelli F, Pierce EA, Pugh EN Jr, Mingozzi F, Bennicelli J, Banfi S, Marshall KA, Testa F, Surace EM, Rossi S, Lyubarsky A, Arruda VA, Konkle B, Stone E, Sun J, Jacobs J, Dell'Osso L, Hertle R, Ma J, Redmond TM, Zhu-X, Hauck B, Zelenaia O, Shindler KS, Maguire MG, Fraser Wright J, Volpe NJ, Wellman McDonnell J, Auricchio A, High KA, Bennett J. (2008) Vision in a Safety Study of Gene Transfer for Leber Congenital Amaurosis. New England J of Med. 358(21):2240-8.
- Maselli V, di Bernardo D, Banfi S. (2008) CoGemiR: A Comparative Genomics microRNA database. BMC Genomics 6(9):457.
- Gennarino VA, Sardiello M, Avellino R, Meola N, Maselli V, Anand S, Cutillo L, Ballabio A, Banfi S. (2009) MicroRNA target prediction by expression analysis of host genes. Genome Res. 19(3):481-90.
- Sardiello M, Palmieri M, di Ronza A, Medina DL, Valenza M, Gennarino VA, Di Malta C, Donaudy F, Embrione V, Polishchuk RS, Banfi S, Parenti G, Cattaneo E and Ballabio A. (2009) A gene network regulating lysosomal biogenesis and function. Science 325(5939):473-7.
- Grillo G, Turi A, Licciulli F, MignoneF, Liuni S, Banfi S, Gennarino VA, Horner DS, Pavesi G, Picardi E and Pesole G. (2010) UTRdb and UTRsite (release 2010): a collection of sequences and regulatory motifs of the untranslated regions of eukaryotic mRNAs. Nucleic Acids Res. 38(Database issue):D75-80.
- Licastro D, Gennarino VA, Petrera F, Sanges R, Banfi S* and Stupka E*. (2010). Promiscuity of enhancer, coding and non-coding transcription functions in ultraconserved elements. BMC Genomics 11(1):151.
- Conte I, Carrella S, Avellino R, Karali M, Marco-Ferreres R, Bovolenta P, Banfi S. (2010) miR-204 is required for lens and retinal development via Meis2 targeting. Proc Natl Acad Sci U S A. 107(35):15491-6.
- Karali M, Peluso I, Gennarino VA, Bilio M, Verde R, Lago G, Dollé P and Banfi S. (2010) miRNeye: a microRNA expression atlas of the mouse eye. BMC Genomics. 11:715.
- Alfano G, Conte I, Caramico T, Avellino R, Arno B, Pizzo MT, Tanimoto N, Beck SC, Huber G, Dollé P, Seeliger M and Banfi S. (2011) Vax2 regulates retinoic acid distribution and cone opsin expression in the vertebrate eye. Development. 138(2):261-71.

No projects are available to students for the current accademic year.