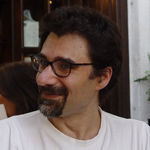 Federico Fogolari
e-mail:
federico.fogolari AT uniud.it
affiliation:
Università di Udine
research area(s):
Computational Biology
Course:
Biomedical and Biotechnological Sciences
University/Istitution:
Università di Udine
Federico Fogolari was born in Udine 07/05/1963. He is currently an Associate Professor of Applied Physics at the University of Udine. After the degree in Physics 110/110 cum laude at University of Trieste he got a PhD in Biophysics at the International School of Advance Studies (ISAS/SISSA) in Trieste. From 1990 to 1997 he has been a technician at the University of Udine. From 1997 to 2004 he has been an assistant professor at the University of Verona and from 2005 he has been an associate professor at the University of Udine.
He has been visiting fellow at the Univeristy of Nijmegen for eight months in 1990, for four months in EMBL Heidelberg in 1992, for one year at the University of California at San Diego in 1996 and for one month at the University of Utrecht in 2008.
The laboratory (including Alessandra Corazza, Gennaro Esposito and Paolo Viglino) is working on applications of computational and simulation methods to the dynamics and thermodynamics of biomolecules, and in particular the effect of mutations on proteins and nucleic acids.
The techniques used are:
1) classical bioinformatics sequence analysis and structural bioinformatics;
2) molecular dynamics simulations with explicit or implicit solvent;
3) computation of electrostatic properties of biomolecules using the Poisson-Boltzmann equation or the generalized Born model.

Running research projects:
Computational mutagenesis: applying exixting methods and developing implicit and explicit solvent simulation to understand the effect of a mutation on inter- and intramolecular interactions

Development of a surface integral formulation of the generalized Born model suitable for moelcular dynamics simulations and comprehensive electrostatic analyses.

Selected publications

Fogolari F., Brigo A. and Molinari H., The Poisson-Boltzmann equation for biomolecular electrostatics: a tool for structural biology. Journal of Molecular Recognition, 15:377-92 (2002).

Berrera M., Molinari H., Fogolari F Amino acid empirical contact energy definitions for fold recognition in the space of contact maps BMC Bioinformatics 4:8 (2003).

Fogolari F., Brigo A. and Molinari H., A protocol for MM/PBSA molecular dynamics simulations of proteins. Biophysical Journal, 85:189 (2003).

Dal Palu' A., Dovier A., and Fogolari F. Constraint Logic Programming approach to protein structure prediction BMC Bioinformatics. 5, 186 (2004).

Fogolari F. and Tosatto S. C. E. Application of MM/PBSA colony free energy to loop decoy discrimination: towards correlation between energy and root mean square deviation. Protein Science. 14, 889-901 (2005).

Fogolari F. , Corazza A., Viglino P., Zuccato P., Pieri L., Faccioli P. Bellotti V., Esposito G. Molecular dynamics simulation suggests possible interaction patterns at early steps of beta2-microglobulin aggregation. Biophysical Journal, 92, 1673-1681 (2007).

Fogolari F. , Pieri L., Dovier A., Bortolussi L., Giugliarelli G., Corazza A., Esposito G., Viglino P. Scoring predictive models using a reduced representation of proteins: model and energy definition. BMC Structural Biology 15, 7 (2007).

Moroni E., Caselle M. and Fogolari F. Identification of DNA-binding protein target sequences by physical effective energy functions. Free energy analysis of lambda repressor-DNA complexes. BMC Structural Biology, 7, 61 (2007).

Fogolari F, Tosatto SC, Muraro L, Montecucco C. Electric dipole reorientation in the interaction of botulinum neurotoxins with neuronal membranes. FEBS Letters 583:2321-2325 (2009).

Fogolari F, Haridas H, Corazza A, Viglino P, Corà D, Caselle M, Esposito G, Xodo LE. Molecular models for intrastrand DNA G-quadruplexes. BMC Structural Biology 9:64 (2009).

Fogolari F, Corazza A, Varini N, Rotter M, Gumral D, Codutti L, Rennella E, Viglino P, Bellotti V, Esposito G. Molecular dynamics simulation of beta2-microglobulin in denaturing and stabilizing conditions. Proteins. 79:986-1001 (2011).
No projects are available to students for the current accademic year.