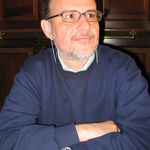 Achille Iolascon
e-mail:
iolascon AT dbbm.unina.it
affiliation:
Università di Napoli Federico II
Course:
Genetics and Molecular Medicine
University/Istitution:
Università di Napoli Federico II
Education
1972-78: M.D. University of Naples
1978-81: Post-graduate school in Pediatrics
1982-85: Post-graduate school in Oncology
1986: Ph.D. in Pediatrics

Post-graduate training:
1979: Intern in Medicine, University of Naples, Department of Pediatrics
1981-93: Assistant physician in Pediatrics
1994 "00: Associate professor of Pediatrics
2000-3: Professor of Pediatrics and Chairman of the Institute for Pediatrics, University of Foggia (Italy)
2004- Adjunct professor of Medicine, Dpt of Biology, Temple University College - Philadelphia
2004- Professor of Medical Genetics- University Federico II, Naples

Faculty appointments :
Instructor in Medicine
Supervisor of graduate students and post- doctoral students
Professor of "Pathology' at the Nursing School of Naples University
Professor of Pediatric Therapy
Professor of Medical Genetics (1996-97)
Professor of Pediatrics
Professor of Medical Genetics

Hospital and Amministrative app.:
1980 Research investigastor
1982-89 Genetic counselor at USL 39-Napoli
1990-93 Assistant physician in Pediatrics
1990-1994 Head of Molecular Biology Unity and Medical Genetics of Pediatrics Dpt. of University of Bari
1999 :Chairman of the CISME- Interuniversity Center for the Studies on Hereditary Diseases of Evolutive Age
2000: Chairman of the University Pediatric Division at Policlinico of Foggia
2004: Chairman of DIV. of Medical Genetics- Dpt. Biochemistry and Medical Biotechnologies
Specialty Certification:
1978Italian Board of Internal Medicine
1981Italian Board of Pediatrics
1985Italian Board of Oncology

Memberships in professional and Scientific Societies :
Italian Society of Pediatrics (SIP)
Italian Association of Pediatric Hematology-Oncology (AIEOP)
Italian Society of Hematology (SIE)
European red cell membrane study group
American Society of Hematology (ASH)

Academic Commitee :
1986 -member of the board commitee of Italian Society of Pediatrics
1988- member of the Italian molecular biology group in Oncology
1990- chairman of the Italian study group on "hemolytic anemia" of the AIEOP
Scientific interests:
since 1978: thalassaemia and haemoglobinopathies
since 1986: oncogenes in pediatric tumors genetic disorders of the red cell membrane
since 1995: stomatocytosis and related diseases, Dyserythropoietic anemias
since 1998:hereditary thrombocytopenias
since 2000: molecular medicine
since 2004: iron metabolism in red cells
No projects are available to students for the current accademic year.