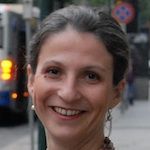 Silvia Bione
e-mail:
bione AT igm.cnr.it
affiliation:
Istituto di Genetica Molecolare-CNR, Pavia
research area(s):
Computational Biology, Genetics And Genomics
Course:
Genetics, Molecular and Cellular Biology
University/Istitution:
Università di Pavia
Education:
1993: Graduated with honors in Biological Sciences at University of Pavia
1997: PhD degree in Genetic Sciences at University of Pavia
1993-2001: Research Fellowship activities at Molecular Genetics Institute-CNR, Pavia
1998: Visiting Scientist at Stanford University, CA USA

Professional experience:
2001-today: Staff scientist at Molecular Genetics Institute-CNR, Pavia
The comprehension of the molecular mechanisms at the basis of physiological or pathological cell fate, requires today bioinformatic and biostatistic approaches able to integrate and interpret the huge amount of informations derived from genome-wide approaches. Recent technological improvements, that have made possible the analysis of human diversity at different molecular levels, resulted in the development of new strategies in genetic studies aimed at the comprehension of gene regulation and cell behaviour.
Recently, a new class of molecules, long non-coding RNAs (lncRNAs), has been identified and recognized as new player in the context of gene expression regulation at different levels.
To this aim, the goal of ongoing studies is the application of new bioinformatic tools for the characterization of lncRNAs toward the comprehension of their mechanisms of action and their role in cell physiology.
Bavagnoli L, Campanini G, Forte M, Ceccotti G, Percivalle E, Bione S, Lisa A, Baldanti F, Maga G.
Identification of a novel antiviral micro-RNA targeting the NS1 protein of the H1N1 pandemic human influenza virus and a corresponding viral escape mutation.
Antiviral Res. 2019 Nov;171:104593. doi: 10.1016/j.antiviral.2019.104593. Epub 2019 Aug 27.

Theil AF, Botta E, Raams A, Smith DEC, Mendes MI, Caligiuri G, Giachetti S, Bione S, Carriero R, Liberi G, Zardoni L, Swagemakers SMA, Salomons GS, Sarasin A, Lehmann A, van der Spek PJ, Ogi T, Hoeijmakers JHJ, Vermeulen W, Orioli D.
Bi-allelic TARS Mutations Are Associated with Brittle Hair Phenotype.
Am J Hum Genet. 2019 Aug 1;105(2):434-440. doi: 10.1016/j.ajhg.2019.06.017.

Chauhan G, Adams HHH, Satizabal CL, Bis JC, Teumer A, Sargurupremraj M, Hofer E, Trompet S, Hilal S, Smith AV, Jian X, Malik R, Traylor M, Pulit SL, Amouyel P, Mazoyer B, Zhu YC, Kaffashian S, Schilling S, Beecham GW, Montine TJ, Schellenberg GD, Kjartansson O, Guðnason V, Knopman DS, Griswold ME, Windham BG, Gottesman RF, Mosley TH, Schmidt R, Saba Y, Schmidt H, Takeuchi F, Yamaguchi S, Nabika T, Kato N, Rajan KB, Aggarwal NT, De Jager PL, Evans DA, Psaty BM, Rotter JI, Rice K, Lopez OL, Liao J, Chen C, Cheng CY, Wong TY, Ikram MK, van der Lee SJ, Amin N, Chouraki V, DeStefano AL, Aparicio HJ, Romero JR, Maillard P, DeCarli C, Wardlaw JM, Hernández MDCV, Luciano M, Liewald D, Deary IJ, Starr JM, Bastin ME, Muñoz Maniega S, Slagboom PE, Beekman M, Deelen J, Uh HW, Lemmens R, Brodaty H, Wright MJ, Ames D, Boncoraglio GB, Hopewell JC, Beecham AH, Blanton SH, Wright CB, Sacco RL, Wen W, Thalamuthu A, Armstrong NJ, Chong E, Schofield PR, Kwok JB, van der Grond J, Stott DJ, Ford I, Jukema JW, Vernooij MW, Hofman A, Uitterlinden AG, van der Lugt A, Wittfeld K, Grabe HJ, Hosten N, von Sarnowski B, Völker U, Levi C, Jimenez-Conde J, Sharma P, Sudlow CLM, Rosand J, Woo D, Cole JW, Meschia JF, Slowik A, Thijs V, Lindgren A, Melander O, Grewal RP, Rundek T, Rexrode K, Rothwell PM, Arnett DK, Jern C, Johnson JA, Benavente OR, Wasssertheil-Smoller S, Lee JM, Wong Q, Mitchell BD, Rich SS, McArdle PF, Geerlings MI, van der Graaf Y, de Bakker PIW, Asselbergs FW, Srikanth V, Thomson R, McWhirter R, Moran C, Callisaya M, Phan T, Rutten-Jacobs LCA, Bevan S, Tzourio C, Mather KA, Sachdev PS, van Duijn CM, Worrall BB, Dichgans M, Kittner SJ, Markus HS, Ikram MA, Fornage M, Launer LJ, Seshadri S, Longstreth WT Jr, Debette S; Stroke Genetics Network (SiGN), the International Stroke Genetics Consortium (ISGC), METASTROKE, Alzheimer's Disease Genetics Consortium (ADGC), and the Neurology Working Group of the Cohorts for Heart and Aging Research in Genomic Epidemiology (CHARGE) Consortium.
Genetic and lifestyle risk factors for MRI-defined brain infarcts in a population-based setting.
Neurology. 2019 Jan 16. pii: 10.1212/WNL.0000000000006851. doi: 10.1212/WNL.0000000000006851.

Parolo S, Lisa A, Gentilini D, Di Blasio AM, Barlera S, Nicolis EB, Boncoraglio GB, Parati EA, Bione S.
Characterization of the biological processes shaping the genetic structure of the Italian population.
BMC Genet. 2015 Nov 9;16:132. doi: 10.1186/s12863-015-0293-x.

Bluher A, Devan WJ, Holliday EG, Nalls M, Parolo S, Bione S, Giese AK, Boncoraglio GB, Maguire JM, Müller-Nurasyid M, Gieger C, Meschia JF, Rosand J, Rolfs A, Kittner SJ, Mitchell BD, O'Connell JR, Cheng YC.
Heritability of young- and old-onset ischaemic stroke.
Eur J Neurol. 2015 Nov;22(11):1488-91. doi: 10.1111/ene.12827. Epub 2015 Sep 2.

Cremaschi P, Carriero R, Astrologo S, Colì C, Lisa A, Parolo S, Bione S.
An Association Rule Mining Approach to Discover lncRNAs Expression Patterns in Cancer Datasets.
Biomed Res Int. 2015;2015:146250. doi: 10.1155/2015/146250. Epub 2015 Jul 27.

Cremaschi P, Oliverio M, Leva V, Bione S, Carriero R, Mazzucco G, Palamidessi A, Scita G, Biamonti G, Montecucco A.
Chronic Replication Problems Impact Cell Morphology and Adhesion of DNA Ligase I Defective Cells.
PLoS One. 2015 Jul 7;10(7):e0130561. doi: 10.1371/journal.pone.0130561. eCollection 2015.

Cremaschi P, Rovida S, Sacchi L, Lisa A, Calvi F, Montecucco A, Biamonti G, Bione S, Sacchi G.
CorrelaGenes: a new tool for the interpretation of the human transcriptome.
BMC Bioinformatics. 2014;15 Suppl 1:S6. doi: 10.1186/1471-2105-15-S1-S6. Epub 2014 Jan 10.
Project Title:
Characterization of genomic and transcriptional features of human and mouse long non-coding RNAs
Project Title:
Elucidation of the regulative role of GC-AG introns in human and mouse