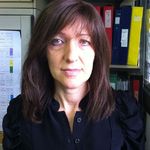 Eleonora Marchina
e-mail:
marchina AT med.unibs.it
affiliation:
Università di Brescia
research area(s):
Genetics And Genomics, Neuroscience
Course:
Molecular Genetics, Biotechnologies and Experimental Medicine
University/Istitution:
Università di Brescia
Medical degree (MD), certified for medical profession, specialist in Biochemical and Clinical Chemistry, and specialist in Medical Genetics.
Assistant Professor in Medical Genetics at the School of Medicine, University of Brescia, since 1997. Medical reference of the Cytogenetic and Molecular Genetic Service of the University of Brescia.
Member of Scientist college of the doctorate of research in "Molecular Genetics Applied to Medical Sciences", University of Brescia
Member of Scientific committee of the "Centre for study and research on the hereditary disease", University of Brescia
Member of the European Society of Human Genetics (ESHG), Italian Society of Human Genetics (SIGU),
Member of the European Huntington's Disease Network (EHDN).

Eleonora Marchina is a medical geneticist, her scientific and clinical competence concerns: clinical and molecular characterization of CNS's neurodegenerative disease, identification of peripheral markers of neurodegeneration, management in multidisciplinary staff of neurogenetics disease.
Genetic counselling for chromosomal and mendelian disease at pre and post natal level. Counselling in oncogenetics: hereditary-familiar breast/ovary cancer.

• Marchina E, Fontana MG, Speziani M, Salvi A, Ricca G, Di Lorenzo D, Gervasi M, Caimi L, Barlati S.: BRCA1 and BRCA2 genetic test in high risk patients and families: counselling and management. Oncol Rep. 2010 Dec;24(6):1661-7.
• Cattaneo A, Bocchio-Chiavetto L, Zanardini R, Marchina E, Bellotti D, Milanesi E, Moraschi S, Calabrese F, Barlati S, Riva MA, Gennarelli M.: BDNF Val66Met polymorphism and protein levels in amniotic fluid. BMC Neurosci. 2010 Feb 8;11:16.
• Spinelli E, Seia M, Melotti P, Marchina E, Padoan R. CFTR mutation in an Arab patient: clinical and functional features of 875+1G-->A/875+1G-->A genotype. J Cyst Fibros. 2009 Jul;8(4):282-4. Epub 2009 May 28.
• Marchina E, Gambera A, Spinelli E, Clerici P, Scagliola P, Sartori E, Barlati S. Identification of a new mutation in the SRY gene in a 46,XY woman with Swyer syndrome. Fertil Steril. 2009 Mar;91(3):932.e7-932.e11. Epub 2008 Nov 6.
• Salvi A, Marchina E, Benetti A, Grigolato P, De Petro G, Barlati S. Germline and somatic c-met mutations in multifocal/bilateral and sporadic papillary renal carcinomas of selected patients. Int J Oncol. 2008 Aug;33(2):271-6.
• Marchina E, Imperadori L, Speziani M, Omodei U, Tombesi S, Barlati S. Chromosome abnormalities and Yq microdeletions in infertile italian couples referred for assisted reproductive technique. Sex Dev. 2007;1(6):347-52. Epub 2008 Jan 18.
• Cipriani S, Bonini D, Marchina E, Balgkouranidou I, Caimi L, Grassi Zucconi G, Barlati S. Mesenchymal cells from human amniotic fluid survive and migrate after transplantation into adult rat brain. Cell Biol Int. 2007 Aug;31(8):845-50. Epub 2007 Feb 9.
• Arredi B, Ferlin A, Speltra E, Bedin C, Zuccarello D, Ganz F, Marchina E, Stuppia L, Krausz C, Foresta C. Y-chromosome haplogroups and susceptibility to azoospermia factor c microdeletion in an Italian population. J Med Genet. 2007 Mar;44(3):205-8. Epub 2006 Dec 8.

No projects are available to students for the current accademic year.