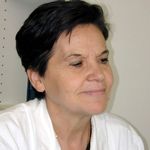 Margherita Cirillo Silengo
e-mail:
margherita.cirillosilengo AT unito.it
affiliation:
Università di Torino
research area(s):
Developmental Biology, Genetics And Genomics
Course:
Molecular Medicine
University/Istitution:
Università di Torino
Margherita Cirillo Silengo



M.D. University of Genova 1968


Residency Pediatrics University of Genova 1971

Residency Medical Genetics Saint Louis University, St Louis Mo USA 1973

Post-doctoral fellowship Medical Genetics, Stanford University, Palo Alto, Ca USA 1978

Assistant Professor of Pediatrics University of Napoli and Torino 1975-2004

Associate Professor of Pediatrics, University of Torino 2005



Author of 336 scientific contributions in the field of Pediatrics and Clinical Genetics
including:
151 original papers with a total IF of 347
9 Books paragraphs
115 Abstracts in National and International Meetings
61 Invited Seminars


Director of the Clinical Genetics Service
Department of Pediatrics, University of Torino



Main scientific interest: malformations and malformation syndromes, genetic disorders affecting children with identification of 12 new syndromes that contribute to the international dismorphologic data-bases LDDB and POSSUM.


1: Mussa A, Ferrero GB, Ceoloni B, Basso E, Chiesa N, De Crescenzo A, Pepe E,
Silengo M, de Sanctis L. Neonatal hepatoblastoma in a newborn with severe
phenotype of Beckwith-Wiedemann syndrome. Eur J Pediatr. 2011 Mar 30. [Epub ahead
of print] PubMed PMID: 21448630.
Micale L, Augello B, Fusco C, Selicorni A, Loviglio MN, Cirillo Silengo M,
Reymond A, Gumiero B, Zucchetti F, D'Addetta EV, Belligni E, Calcagni A, Digilio
MC, Dallapiccola B, Faravelli F, Forzano F, Accadia M, Bonfante A, Clementi M,
Daolio C, Douzgou S, Ferrari P, Fischetto R, Garavelli L, Lapi E, Mattina T,
Melis D, Patricelli MG, Priolo M, Prontera P, Renieri A, Mencarelli MA, Scarano
G, Della Monica M, Toschi B, Turolla L, Vancini A, Zatterale A, Gabrielli O,
Zelante L, Merla G. Mutation Spectrum of MLL2 in a cohort of Kabuki syndrome
patients. Orphanet J Rare Dis. 2011 Jun 9;6(1):38. [Epub ahead of print] PubMed
PMID: 21658225.

2: Lepri F, De Luca A, Stella L, Rossi C, Baldassarre G, Pantaleoni F, Cordeddu
V, Williams BJ, Dentici ML, Caputo V, Venanzi S, Bonaguro M, Kavamura I, Faienza
MF, Pilotta A, Stanzial F, Faravelli F, Gabrielli O, Marino B, Neri G, Silengo
MC, Ferrero GB, Torrrente I, Selicorni A, Mazzanti L, Digilio MC, Zampino G,
Dallapiccola B, Gelb BD, Tartaglia M. SOS1 mutations in Noonan syndrome:
molecular spectrum, structural insights on pathogenic effects, and
genotype-phenotype correlations. Hum Mutat. 2011 Mar 8. doi: 10.1002/humu.21492.
[Epub ahead of print] PubMed PMID: 21387466; PubMed Central PMCID: PMC3118925.


3: van Bon BW, Balciuniene J, Fruhman G, Nagamani SC, Broome DL, Cameron E,
Martinet D, Roulet E, Jacquemont S, Beckmann JS, Irons M, Potocki L, Lee B,
Cheung SW, Patel A, Bellini M, Selicorni A, Ciccone R, Silengo M, Vetro A, Knoers
NV, de Leeuw N, Pfundt R, Wolf B, Jira P, Aradhya S, Stankiewicz P, Brunner HG,
Zuffardi O, Selleck SB, Lupski JR, de Vries BB. The phenotype of recurrent
10q22q23 deletions and duplications. Eur J Hum Genet. 2011 Apr;19(4):400-8. Epub
2011 Jan 19. PubMed PMID: 21248748; PubMed Central PMCID: PMC3060324.


4: Nishimura G, Dai J, Lausch E, Unger S, Megarbané A, Kitoh H, Kim OH, Cho TJ,
Bedeschi F, Benedicenti F, Mendoza-Londono R, Silengo M, Schmidt-Rimpler M,
Spranger J, Zabel B, Ikegawa S, Superti-Furga A. Spondylo-epiphyseal dysplasia,
Maroteaux type (pseudo-Morquio syndrome type 2), and parastremmatic dysplasia are
caused by TRPV4 mutations. Am J Med Genet A. 2010 Jun;152A(6):1443-9. PubMed
PMID: 20503319.


5: Mussa A, Chiesa N, Porta F, Baldassarre G, Silengo MC, Ferrero GB. The overlap
between Sotos and Beckwith-Wiedemann syndromes. J Pediatr. 2010
Jun;156(6):1035-6; author reply 1036. Epub 2010 Apr 14. PubMed PMID: 20394943.


6: Iannicelli M, Brancati F, Mougou-Zerelli S, Mazzotta A, Thomas S, Elkhartoufi
N, Travaglini L, Gomes C, Ardissino GL, Bertini E, Boltshauser E, Castorina P,
D'Arrigo S, Fischetto R, Leroy B, Loget P, Bonnière M, Starck L, Tantau J,
Gentilin B, Majore S, Swistun D, Flori E, Lalatta F, Pantaleoni C, Penzien J,
Grammatico P; International JSRD Study Group, Dallapiccola B, Gleeson JG,
Attie-Bitach T, Valente EM. Novel TMEM67 mutations and genotype-phenotype
correlates in meckelin-related ciliopathies. Hum Mutat. 2010 May;31(5):E1319-31.
PubMed PMID: 20232449; PubMed Central PMCID: PMC2918781.


7: Silengo M, Belligni E, Molinatto C, Baldassarre G, Biamino E, Chiesa N,
Zuffardi O, Girirajan S, Eichler EE, Ferrero GB. Eyebrow anomalies as a
diagnostic sign of genomic disorders. Clin Genet. 2010 Jan;77(1):28-31. Erratum
in: Clin Genet. 2010 Apr;77(4):408. Baldassare, G [corrected to Baldassarre G].
PubMed PMID: 20092588.


8: Cirstea IC, Kutsche K, Dvorsky R, Gremer L, Carta C, Horn D, Roberts AE, Lepri
F, Merbitz-Zahradnik T, König R, Kratz CP, Pantaleoni F, Dentici ML, Joshi VA,
Kucherlapati RS, Mazzanti L, Mundlos S, Patton MA, Silengo MC, Rossi C, Zampino
G, Digilio C, Stuppia L, Seemanova E, Pennacchio LA, Gelb BD, Dallapiccola B,
Wittinghofer A, Ahmadian MR, Tartaglia M, Zenker M. A restricted spectrum of NRAS
mutations causes Noonan syndrome. Nat Genet. 2010 Jan;42(1):27-9. Epub 2009 Dec
6. PubMed PMID: 19966803; PubMed Central PMCID: PMC3118669.

Project Title:
- Studio dell'eziopatogenesi molecolare della sindrome di Beckwith-Wiedemann

che ha portato alla scoperta di un meccanismo eziopatogenetico mendeliano inedito rappresentato da delezioni all'interno del Centro dell'Imprinting 1 nella regione 11p15 del cromosoma 11, nonché alla defizione di classi fenotipiche/ epigenotipiche /genotipiche associate a specifici rischi oncologici. Queste ricerche originali, condotte in collaborazione con il gruppo del prof. Andrea Riccio dell'Università di Napoli, sono state pubblicate sulle principali riviste genetiche internazionali

Project Title:
4- Studio dei meccanismi eziopatogenetici del ritardo mentale sindromico mediante CGH –Arrays
Questo studio è tuttora corso ma i risultati preliminari dimostrano che i riarrangiamenti genomici sono responsabili di circa il 14% delle forme di ritardo mentale sindromico e che è possibile identificare fenotipi specifici per le delezioni/duplicazioni ricorrenti.