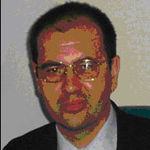 Marco Paulli
e-mail:
m.paulli AT smatteo.pv.it
affiliation:
Università di Pavia
research area(s):
Cancer Biology
Course:
Genetics, Molecular and Cellular Biology
University/Istitution:
Università di Pavia
Academic Position: Full Professor
Place And Date Of Birth: Pavia, 25th December 1958
Professional Experiences:
1990, Assistant of Surgical Pathology (IRCCS Policlinico "San Matteo", Pavia); 1994, Assistant at the Research Laboratory of the Transplantation Unit; then, surgical pathologist at the Pathology Service IRCCS Policlinico "San Matteo", Pavia; since 2001, in-hospital-employed academic surgical pathologist; 2009 Director of Anatomic Pathology Service, Foundation IRCCS Policlinico "San Matteo". 2010 Full Professor University of Pavia, Faculty of Medicine, Dept. of Paediatric Science and Human Pathology and Director of Anatomic Pathology Service, Foundation IRCCS Policlinico "San Matteo". Formative stages and cooperations with: Departments of Pathology at the Universities of Bologna, Milan, Verona, Boston Harvard Medical School, Heidelberg, Würzburg, Lübeck and Ulm. His main research and working field is haematopathology and major interests include: A) histiocyte-related disorders, B) T-cell lymphomas (nodal and extranodal) including cutaneous T-cell malignancies and nodal and extranodal CD30+ ALCL; C) B-cell lymphomas (mainly cutaneous B-cell lymphomas, marginal zone B-cell lymphomas, mediastinal B-cell lymphomas and post-transplant lymphoproliferative disorders). Studies in the above-mentioned field are performed by updated diagnostic and research techniques, including molecular biology (FISH, array-CGH) and laser microdissection. He is author and co-author of several publications published on national and international scientific journals, as well as of manual chapters. He is a member of the scientific committee who developed the "World Health Organization Classification of Tumours of Haematopoietic and Lymphoid Tissues" (eds. 1997; 2001; 2008); he is co-author of the book "Histopathology of nodal and extranodal non-Hodgkin lymphomas" based on the "WHO Classification, third revised and Updated Edition" (2004), one of the leading texts in haematopathology. He was accorded a grant by the Histiocyte Society of America (1995) for studies on histiocytic disorders, in particular on Rosai-Dorfman Disease (RDD). Scientific Coordinator of the project "Lymphoproliferative CD30+ disorders and Epstein-Barr virus infection", part of the research titled "New molecular and serological markers of the virus-associated lymphomagenesis", assigned by the Italian Health Ministry in 1999 and coordinated by the IRCCS Lazzaro Spallanzani in Rome. Scientific Coordinator of the Research Unit, project "Cyclins, nodal CD30+ anaplastic large cell lymphomas (ALCL) and cutaneous CD30+ lymphoproliferative disorders: immunomolecular analysis and clinicopathologic correlation" included in the COFIN 2002 Project "Genic and transcriptional alterations in lymphomagenesis: diagnostic, prognostic and therapeutic implications". Scientific Coordinator of the Research Unit, project "Cell cycle molecules, reactive cellular infiltrate, Epstein-Barr virus (EBV) and Human Herpes Virus (HHV)-8, in post-transplant lymphoproliferative disorders: immunomolecular analysis, clinicopathologic and histogenetic correlations"; included the COFIN 2004 project "Post-transplant tumours: new biological data and their therapeutic implications"; included the COFIN 2006 project "Marginal zone B-cell lymphoma, nodal and extranodal, non-MALT ". July 2009, Scientific Coordinator of the research Unit Project, Foundation IRCCS Policlinico "San Matteo" (Pavia): "Nodal and extranodal lymphopropiferative disorders: morfofunctional and molecular charaterization, histogenetic and lymphomagenetic factors analysis with particular reference to viral infection and immunodeficience conditions; identification of prognostic biomarkers; clinical correlations". Member of the Italian Society of Surgical Pathology (SIAPEC), of the European Association of Haematopathology (EAHP) and of the Cutaneous Lymphoma Task Force of the European Organization for Cancer Research and Treatment (EORTC); member and co-founder of the Italian Cutaneous Lymphoma Group (GILC); member of the Italian Lymphoma Study Group (GISL); member and co-founder of the Italian Haematolymphopathology Group (GIE).
He is author of more than 120 full papers, 5 chapters in books and 100 Abstracts of Meetings.

Main research fields are centred on hemolymphopathology, pediatric pathology, gastroenterology and cervicofacial tumors. In particular, the most important results have been attained in hemolymphopathology; Prof. Paulli has an international reputation as a lspecialist in this field, as he (and his coworkers) took part in writing the two latest WHO (World Health Organization) classifications of hemolymphoproliferative disorders.
Prof. Paulli"s research activities are carried out by means of several techniques: immunohistochemistry, electron microscopy, molecular biology, laser microdissection and cytogenetics analyses; results are currently published in high IF (impact factor) international scientific journals.
Our Section is involved in multicentric studies with national and international partnerships. Main scientific collaborations are with: Pathology Institutes of Frankfurt, Lubeck and Wuerzburg University (Germany), Amsterdam and Njimegen University (The Netherlands), Milano, Bologna and Perugia University (Italy); and with the Dermatology Institutes of Zurich (Switzerland), Leiden (The Netherlands), Milano, Torino and Firenze (Italy) Universities.
Nodal and extranodal lymphoprolipherative disorders are important issues of our research, in particular, they are analyzed as for their morphological/molecular aspects and as for their possible etiopathogenesis. Indeed, many studies have recentely focused on putative lymphomagenic models, proposing a link with primary and/or secondary immunodeficiency and with viral or bacterial chronic infections, especially after a correlation between EBV- and HP-infections and lymphoproliferative disorders (gastric marginal zone lymphoma) had been established.
Lately, reports have demonstrated the Hepatitis C virus (HCV) role in the development of different lymphoproliferative B-cell disorders; these observations opened the way to using anti-viral agents (e.g. interferon) in patients with HCV associated (related) lymphoma. Immunodeficiency-related lymphoprolipherative disorders are a wide spectrum of diseases which comprises primary immune disorders-associated, AIDS-associated, post-transplant and iatrogenic immunodeficiency-associated entities. These pathologies show a peculiar and frequent correlation with EBV infection, which is a lymphomagenic co-factor.
Presently, a multicentric study on cutaneous lymphoproliferative disorders CD30+ is in progress; we investigated the monoclonal status in the atypical cells, which had been previously identified with immunohistochemical markers, and with laser microdissection technology. The aim of this research is to define the neoplastic vs reactive nature of these entities, in particular of lymphomatoid papulosis and borderline lesions, which are still lacking a WHO classification.
Finally, the correlation between phenotype, cytogenetic and molecular features allows a correct diagnosis and prompts the identification of new prognostic biomarkers; an appropriate identification of these disorders is crucial in order to choose suitable clinical and therapeutic treatments.

1. Lucioni M, Novara F, Fiandrino G, Riboni R, Fanoni D, Arra M, Venegoni L, Nicola M, Dallera E, Arcaini L, Onida F, Vezzoli P, Travaglino E, Boveri E, Zuffardi O, Paulli M, Berti E. Twenty-one cases of blastic plasmacytoid dendritic cell neoplasm: focus on biallelic locus 9p21.3 deletion. Blood. 2011 Sep 7. [Epub ahead of print].
2. Vezzoli P, Novara F, Fanoni D, Gambini D, Balice Y, Venegoni L, Paulli M, Crosti C, Berti E. Three cases of primary cutaneous lymphoblastic lymphoma: microarray-based comparative genomic hybridization and gene expression profiling studies with review of literature. Leuk Lymphoma. 2011 Aug 31. [Epub ahead of print].
3. Kwee I, Capello D, Rinaldi A, Rancoita PM, Bhagat G, Greiner TC, Spina M, Gloghini A, Chan WC, Paulli M, Zucca E, Tirelli U, Carbone A, Gaidano G, Bertoni F. Genomic aberrations affecting the outcome of immunodeficiency-related diffuse large B-cell lymphoma. Leuk Lymphoma. 2011 Aug 28. [Epub ahead of print].
4. Fabbri G, Rasi S, Rossi D, Trifonov V, Khiabanian H, Ma J, Grunn A, Fangazio M, Capello D, Monti S, Cresta S, Gargiulo E, Forconi F, Guarini A, Arcaini L, Paulli M, Laurenti L, Larocca LM, Marasca R, Gattei V, Oscier D, Bertoni F, Mullighan CG, Foá R, Pasqualucci L, Rabadan R, Dalla-Favera R, Gaidano G. Analysis of the chronic lymphocytic leukemia coding genome: role of NOTCH1 mutational activation. J Exp Med. 2011 Jul 4;208(7):1389-401.
5. Arcaini L, Merli M, Rattotti S, Bruno R, Vercelli A, Lucioni M, Riboni R, Paulli M. Regression of Indolent B-Cell Lymphoma After Lamivudine Prophylaxis of Hepatitis B Virus Infection. J Clin Oncol. 2011;29(18):e543-5.
6. Rossi D, Spina V, Deambrogi C, Rasi S, Laurenti L, Stamatopoulos K, Arcaini L, Lucioni M, Rocque GB, Xu-Monette ZY, Visco C, Chang J, Chigrinova E, Forconi F, Marasca R, Besson C, Papadaki T, Paulli M, Larocca LM, Pileri SA, Gattei V, Bertoni F, Foà R, Young KH, Gaidano G. The genetics of Richter syndrome reveals disease heterogeneity and predicts survival post-transformation. Blood. 2011;117(12):3391-401.
7. Zibellini S, Capello D, Forconi F, Marcatili P, Rossi D, Rattotti S, Franceschetti S, Sozzi E, Cencini E, Marasca R, Baldini L, Tucci A, Bertoni F, Passamonti F, Orlandi E, Varettoni M, Merli M, Rizzi S, Gattei V, Tramontano A, Paulli M, Gaidano G, Arcaini L. Stereotyped patterns of B-cell receptor in splenic marginal zone lymphoma. Haematologica. 2010;95(10):1792-6.
8. Arcaini L, Paulli M. Splenic marginal zone lymphoma: hydra with many heads? Haematologica. 2010;95(4):534-7.
9. Paulli M, Arcaini L, Lucioni M, Boveri E, Capello D, Passamonti F, Merli M, Rattotti S, Rossi D, Riboni R, Berti E, Magrini U, Bruno R, Gaidano G, Lazzarino M. Subcutaneous 'lipoma-like' B-cell lymphoma associated with HCV infection: a new presentation of primary extranodal marginal zone B-cell lymphoma of MALT. Ann Oncol. 2010;21(6):1189-95.
10. Rossi D, Spina V, Cerri M, Rasi S, Deambrogi C, De Paoli L, Laurenti L, Maffei R, Forconi F, Bertoni F, Zucca E, Agostinelli C, Cabras A, Lucioni M, Martini M, Magni M, Deaglio S, Ladetto M, Nomdedeu JF, Besson C, Ramponi A, Canzonieri V, Paulli M, Marasca R, Larocca LM, Carbone A, Pileri SA, Gattei V, Gaidano G. Stereotyped B-Cell Receptor Is an Independent Risk Factor of Chronic Lymphocytic Leukemia Transformation to Richter Syndrome. Clin Cancer Res. 2009; 15(13):4415-22.
11. Boveri E, Arcaini L, Merli M, Passamonti F, Rizzi S, Vanelli L, Rumi E, Rattotti S, Lucioni M, Picone C, Castello A, Pascutto C, Magrini U, Lazzarino M, Paulli M. Bone marrow histology in marginal zone B: correlation with clinical parameters and flow cytometry in 120 patients. Ann Oncol. 2009;20 (1):129-36.
12. Ralfkiaer E, Willemze R, Paulli M, Kadin M.E. Primary cutaneous CD30-positive T-cell lymphoproliferative disorders,.WHO Classification of Tumors of Haematopoietic and Lymphoid Tissues. IARC Press, Lyon, 2008.
13. Kempf W, Ostheeren-Michaelis S, Paulli M, Lucioni M, Wechsler J, Audring H, Assaf C, Rüdiger T, Willemze R, Meijer CJ, Berti E, Cerroni L, Santucci M, Hallermann C, Berneburg M, Chimenti S, Robson A, Marschalko M, Kazakov DV, Petrella T, Fraitag S, Carlotti A, Courville P, Laeng H, Knobler R, Golling P, Dummer R, Burg G. Granulomatous mycosis fungoides and granulomatous slack skin: a multicenter study of the Cutaneous Lymphoma Histopathology Task Force Group of the European Organization For Research and Treatment of Cancer (EORTC). Arch Dermatol. 2008;144(12):1609-17.
14. Willemze R, Jansen PM, Cerroni L, Berti E, Santucci M, Assaf C, Canninga-van Dijk MR, Carlotti A, Geerts ML, Hahtola S, Hummel M, Jeskanen L, Kempf W, Massone C, Ortiz-Romero PL, Paulli M, Petrella T, Ranki A, Peralto JL, Robson A, Senff NJ, Vermeer MH, Wechsler J, Whittaker S, Meijer CJ; EORTC Cutaneous Lymphoma Group. Subcutaneous panniculitis-like T-cell lymphoma: definition, classification, and prognostic factors: an EORTC Cutaneous Lymphoma Group Study of 83 cases. Blood. 2008;111(2):838-45.

No projects are available to students for the current accademic year.