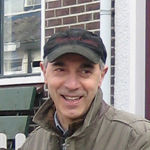 Ennio Prosperi
e-mail:
prosperi AT igm.cnr.it
affiliation:
Istituto di Genetica Molecolare-CNR, Pavia
research area(s):
Cell Biology, Molecular Biology
Course:
Genetics, Molecular and Cellular Biology
University/Istitution:
Università di Pavia
Born on July 18, 1955 in Imperia (Italy).

Position: senior researcher (since 2001)
Present address: CNR, Istituto di Genetica Molecolare (Pavia)
c/o Dip.Biologia Animale,
Via Ferrata1, 27100 Pavia (Italy)
Tel: +39 0382 986267; Fax: +39 0382 986430
Email: prosperi@igm.cnr.it

Studies and training
1974-1978 : Faculty of Biological Sciences at Pavia University.
July 1978: Doctoral degree cum laude in Biological Sciences.
1978-1979: Training in Cytochemistry and Cytofluorometry at Centro di Studio per l'Istochimica del CNR, Pavia (Italy).
October 1980-July 1981: CNR fellowship at the Department of Histochemistry and Cytochemistry, University of Leiden, The Netherlands, under the direction of Prof. M. Van der Ploeg.
1981-1982: Post-doctoral studies in Physiological Sciences. April 1983: Course in Fluorescence Microscopy, Royal Microscopical Society, Oxford, UK. September 1987: Minicourse "DNA damage and repair in cancer chemotherapy" held by K. Kohn, Mario Negri Institute, Milano. June 1991: Seminar on Hybridization Techniques of Nucleic Acids (DNA probes), Milano, Italy. November 1996: Practical course on Coulter Flow Cytometers, Milano, Italy. 2000-2001: Stages at the Station Biologique (CNRS), Cell Cycle Group (L. Meijer), Roscoff, France.
Positions and teaching activities
1982-1983: CNR researcher (contract). Since 1984: CNR researcher (permanent position). 1983-1987: seminars in the Post-graduate Schools of Hystochemistry, and Cytochemistry and Cytomorphology, Pavia University. Since 1989: Tutorship for graduating and PhD students. Since 1996: Lecturer in Physiology and Pathology of the Cell Cycle, Medical Faculty, University of Pavia. Since 2001: Teacher in the post-graduate schools in Oncology, and in Clinical Pathology School, Medical Faculty, University of Pavia. 2001-2002: Teacher for "Master in techniques of microscopical analysis in Biology", University of Pavia.

Participation to Research Projects
Involved in several national and international research projects, and he has been, or is leader of projects funded by Italian CNR, Bilateral Program CNR (Italy)/CNRS (France), by the Italian Ministry of Education, and by the Italian Association for Cancer Research (AIRC).
He is a member and serving (since 2008) in the Board of the Italian Society for Environmental Mutagenesis (SIMA).

Scientific interests covers the area of the Cell Cycle Checkpoints and the DNA Damage Response, with particular emphasis in: i) the involvement of cell cycle inhibitors (p21CDKN1A) in the DNA repair process. ii) Involvement of PCNA and regulation of its multiple interactions in the DNA repair process. iii) Genome stability and DNA damage response: role of p300/CBP acetyl transferases in DNA repair processes. iv) Analysis of the effects of chemical inhibitors and modulators of the cell cycle, including antitumoral drugs.
1- CAZZALINI O, PERUCCA P, RIVA F, STIVALA LA, BIANCHI L, VANNINI V, DUCOMMUN B, PROSPERI E.- p21CDKN1A does not interfere with loading of PCNA at DNA replication sites, but inhibits subsequent binding of DNA polymerase delta at the G1/S phase transition.
Cell Cycle 2 :596-603, 2003.

2- RIVA F, SAVIO M, CAZZALINI O, STIVALA LA, SCOVASSI IA, COX LS, DUCOMMUN B, PROSPERI E. - Distinct pools of proliferating cell nuclear antigen associated to DNA replication sites interact with the p125 subunit of DNA polymerase δ or DNA ligase I.
Exp. Cell Res. 293: 357-67, 2004.

3- CAZZALINI O, PERUCCA P, VALSECCHI F, STIVALA LA, BIANCHI L, VANNINI V, PROSPERI E.- Intracellular localization of the cyclin-dependent kinase inhibitor p21(CDKN1A)-GFP fusion protein during cell cycle arrest.
Histochem. Cell Biol. 121 :377-381, 2004.

4- PERUCCA P, CAZZALINI O, MORTUSEWICZ O, NECCHI D, SAVIO M, NARDO T, STIVALA LA, LEONHARDT H, CARDOSO MC, PROSPERI E. - Spatiotemporal dynamics of p21CDKN1A protein recruitment to DNA-damage sites and interaction with proliferating cell nuclear antigen.
J Cell Sci. 119: 1517-1527, 2006

5- SCOVASSI AI, PROSPERI E.
Analysis of proliferating cell nuclear antigen (PCNA) associated with DNA excision repair sites in mammalian cells.
Methods Mol Biol. 314: 457-475, 2006

6- PROSPERI E.
The fellowship of the rings: distinct pools of proliferating cell nuclear antigen trimer at work.
FASEB J. 20: 833-837, 2006.

7- CISTERNA B, NECCHI D, PROSPERI E, BIGGIOGERA M.
Small ribosomal subunits associate with nuclear myosin and actin in transit to the nuclear pores.
FASEB J. 20: 1901-1903, 2006.

8- SAVIO M, CERRI M, CAZZALINI O, PERUCCA P, STIVALA LA, PICHIERRI P, FRANCHITTO A, MEIJER L, PROSPERI E.
Replication-dependent DNA damage response triggered by roscovitine induces an uncoupling of DNA replication proteins.
Cell Cycle. 5: 2153-2159, 2006.

9- LA REGINA G, EDLER MC, BRANCALE A, KANDIL S, COLUCCIA A, PISCITELLI F, HAMEL E, DE MARTINO G, MATESANZ R, DIAZ JF, SCOVASSI AI, PROSPERI E, LAVECCHIA A, NOVELLINO E, ARTICO M, SILVESTRI R.
Arylthioindole inhibitors of tubulin polymerization. 3. Biological evaluation, structure-activity relationships and molecular modeling studies.
J Med Chem. 50: 2865-2874, 2007.

10- CAZZALINI O, PERUCCA P, SAVIO M, NECCHI D, BIANCHI L, STIVALA LA, DUCOMMUN B, SCOVASSI AI, PROSPERI E.
Interaction of p21(CDKN1A) with PCNA regulates the histone acetyltransferase activity of p300 in nucleotide excision repair.
Nucleic Acids Res. 36: 1713-1722, 2008.

11- DONA' F, PROSPERI E, SAVIO M, COPPA T, SCOVASSI AI, MONDELLO C.
Loss of histone H2AX increases sensitivity of immortalized mouse fibroblasts to the topoisomerase II inhibitor etoposide.
Int J Oncol. 33: 613-621, 2008.

12- FRANCHITTO A, PIRZIO LM, PROSPERI E, SAPORA O, BIGNAMI M, PICHIERRI P.
Replication fork stalling in WRN-deficient cells is overcome by prompt activation of a MUS81-dependent pathway.
J Cell Biol. 183: 241-252, 2008.

13- PERUCCA P, CAZZALINI O, MADINE M, SAVIO M, LASKEY RA, VANNINI V, PROSPERI E, STIVALA LA.
Loss of p21 CDKN1A impairs entry to quiescence and activates a DNA damage response in normal fibroblasts induced to quiescence.
Cell Cycle 8: 105-114, 2009.

14- CISTERNA B, MALATESTA M, DIEKER J, MULLER S, PROSPERI E, BIGGIOGERA M.
An active mechanism flanks and modulates the export of the small ribosomal subunits.
Histochem Cell Biol. 131: 743-753, 2009.

15- SAVIO M, COPPA T, CAZZALINI O, PERUCCA P, NECCHI D, NARDO T, STIVALA LA, PROSPERI E.
Degradation of p21(CDKN1A) after DNA damage is independent of type of lesion, and is not required for DNA repair.
DNA Repair, 8: 778-785, 2009.

16- GIANSANTI V., CAMBONI T., PISCITELLI F, PROSPERI E, LA REGINA G, LAZZE' MC, SANTIN G, SILVESTRI R, SCOVASSI AI.
Study of the effects of a new pyrazolecarboxamide: Changes in mitochondria and induction of apoptosis.
Int J Biochem Cell Biol. 41: 1890-1898, 2009.

17- SAVIO M, COPPA T, BIANCHI L, VANNINI V, MAGA G, FORTI L, CAZZALINI O, LAZZ" MC, PERUCCA P, PROSPERI E, STIVALA LA.
The resveratrol analogue 4,4'-dihydroxy-trans-stilbene inhibits cell proliferation with higher efficiency but different mechanism from resveratrol.
Int J Biochem Cell Biol. 41:2493-2502, 2009.

18- CAZZALINI O, SCOVASSI AI, SAVIO M, STIVALA LA, PROSPERI E.
Multiple roles of the cell cycle inhibitor p21(CDKN1A) in the DNA damage response.
Mutat. Res. Rev Mutat. 704:12-20, 2010.

19- CAZZALINI O, DONA' F, SAVIO M, TILLHON M, MACCARIO C, PERUCCA P, STIVALA LA, SCOVASSI AI, PROSPERI E. p21CDKN1A participates in base excision repair by regulating the activity of poly(ADP-ribose) polymerase-1.
DNA Repair 9:627-635, 2010.

20- PARKS M, TILLHON M, DONA' F, PROSPERI E, SCOVASSI AI. 2-Methoxyestradiol: new perspectives in colon carcinoma treatment.
Mol Cell Endocrinol. 331:119-128, 2011.

21- GIANSANTI V, TILLHON M, MAZZINI G, PROSPERI E, LOMBARDI P, SCOVASSI AI.
Killing of tumor cells: A drama in two acts.
Biochem Pharmacol. 2011, in press


Project Title:
Genome stability and DNA damage response in Rubinstein-Taybi syndrome: role of CBP/p300 acetyltransferases in DNA repair