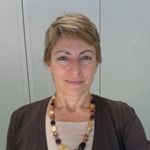 Lucia Anna Stivala
e-mail:
luciaanna.stivala AT unipv.it
affiliation:
Università di Pavia
research area(s):
Cancer Biology, Experimental Medicine
Course:
Genetics, Molecular and Cellular Biology
University/Istitution:
Università di Pavia
Lucia Anna Stivala, born in Salve (Lecce, Italy) in 1959, is Assistant Professor of General Pathology (since 2003) at the Department of Experimental Medicine "C. Golgi", Faculty of Medicine and Surgery, University of Pavia. She graduated in Biological Sciences at the University of Pavia in 1985 and received his PhD in Experimental Pathology from the University of Firenze in 1992. She worked as "Funzionario Tecnico" (1988-1997) and then Researcher (1997-2003) at the Medical Faculty, Institute of General Pathology, University of Pavia. Since 1991 she is member of the Italian Society of Pathology (SIP). In 2002 she frequented as visiting scientist the MRC Cancer Cell Unit, Hutchison/MRC Research Centre of Cambridge, UK.
Her main research interests include the study of biological activity of natural or synthetic compounds, with the aim to highlight the relationship between their chemical structure and biological properties. Her scientific activity has been also focused on the study of proteins involved in cell cycle regulation and DNA replication and repair. She has authored of 50 papers in international peer-reviewed journals.
Reviewer of original papers for several international journals such as: Bioorganic Chemistry, Biochimica and Biophysica Acta, Leukemia, International Journal of Radiation Biology, Food and Chemical Toxicology, ChemMedChem, Journal of Agricultural and Food Chemistry.

STUDY OF BIOLOGICAL ACTIVITY OF NATURAL OR SYNTHETIC COMPOUNDS

Since many years the main research of the laboratory has focused on biological activity of natural or synthetic derived compounds with a potential role in the prevention of human pathological processes, such as cancer. Our work have clarified the mechanism of action, through the identification of protein targets, of the antiproliferative and/or antioxidant effect of some natural agents, such as beta-carotene, anthocyanins and, more recently, stilbenes. In particular, in experiments with different synthetic derivatives of resveratrol, which is the most studies among the stilbenic compounds, we have demonstrated that the 4'-hydroxystyryl moiety of the molecule is the specific structural determinant required for the inhibition of cell proliferation, but not for antioxidant activity, which is dependent on the three-hydroxyl groups in the molecule. A potential mechanism underlying this antiproliferative activity seems to be related to its ability to block DNA synthesis, through inhibition of DNA polymerase. We are currently evaluating new synthetic analogues, and in particular 4,4'-dihydroxystilbene, containing two 4-hydroxystyryl moieties, which is more effective in inhibiting tumour proliferation, and thus with potential pharmacological interest.
A second research project currently in progress aims at evaluating the biological activity of new compounds that have a fluoroquinolone-based structure for their use as photodynamic therapy, with the main goal to investigate their mechanisms of action (cell localization, DNA adducts formation, apoptosis).


STUDY OF PROTEINS INVOLVED IN CELL CYCLE REGULATION AND DNA REPLICATION AND REPAIR.

The DNA must be replicated and transmitted properly to avoid genomic instability, pathogenetic basis of several human diseases, such as cancer; to this end, cells have developed a complex system to monitor and signal DNA damage (checkpoints), and DNA repair systems.
For many years the research of the laboratory has been directed to some proteins that regulate the cell cycle, and appear also to be involved in the processes of DNA repair. Among these proteins, the cyclin-dependent kinase inhibitors p21CDKN1A plays a very important role in cell cycle control, mainly in the "checkpoint" of G1 phase and in the inhibition of DNA synthesis by associating with PCNA, a cofactor necessary for the activity of many enzymes involved in the DNA metabolism. Recently, our research has demonstrated that p21, in cooperation with p27, an important member of CDK-inhibitor family, is involved in the induction in controlling the entry / exit from the temporary cell cycle (quiescence). In addition, p21 appear to promote the efficiency of DNA repair processes, like the Nucleotide Excision Repair (NER). In fact, p21 seems to be required to regulate the acetylation of some factors involved in NER. Among these, we are studying the protein that binds to damaged DNA (DDB2), which, combined with DDB1 in complex DDB plays a role in the recognition of DNA damage induced by UV in the Global Genome Repair (GGR-NER).

Publications in international peer-reviewed journals.


M. BELLERI, D. RIBATTI, S. NICOLI, F. COTELLI, L. FORTI, V. VANNINI, L.A. STIVALA, M. PRESTA.
Antiangiogenic and vascular targeting activity of the microtubule-destabilizing trans-resveratrol derivative 3,5,4'-trimethoxystilbene.
Mol Pharmacol.,67 (5), 1451-9, 2005.

G.A. LOCATELLI, M. SAVIO, L. FORTI, I. SHEVELEY, K. RAMADAN, L.A. STIVALA, V. VANNINI, U. HUBSCHER, S. SPADARI, G. MAGA.
Inhibition of mammalian DNA polymerases by resveratrol: mechanism and structural determinants. Biochem J., 389:259-68, 2005.

P. PERUCCA, O. CAZZALINI, O. MORTUSEWICZ, D. NECCHI, M. SAVIO, T. NARDO, L.A. STIVALA, H. LEONHARDT, M.C. CARDOSO, E. PROSPERI.
Spatiotemporal dynamics of p21CDKN1A protein recruitment to DNA-damage sites and interaction with proliferating cell nuclear antigen.
J Cell Sci., 119, 1517-27, 2006

M. SAVIO, M. CERRI, O. CAZZALINI, P. PERUCCA, L.A. STIVALA, P. PICHIERRI, A. FRANCHITTO, L. MEIJER, E. PROSPERI.
Replication-dependent DNA damage response triggered by roscovitine induces an uncoupling of DNA replication proteins.
Cell Cycle, 5(18), 2153-9, 2006.

O. CAZZALINI, P. PERUCCA, M. SAVIO, D. NECCHI, L. BIANCHI, L.A. STIVALA, B. DUCOMMUN, A.I. SCOVASSI, AND E. PROSPERI
Interaction of p21CDKN1A with PCNA regulates the histone acetyltransferase activity of p300 in nucleotide excision repair
Nucleic Acids Res., 36 (5), 1713-22, 2008.

Belleri M, RIBATTI D, SAVIO M, STIVALA LA, FORTI L, TANGHETTI E, ALESSI P, COLTRINI D, BUGATTI A, MITOLA S, NICOLI S, VANNINI V, PRESTA M.
alphaVbeta3 Integrin-dependent antiangiogenic activity of resveratrol stereoisomers. Mol Cancer Ther. 7(12), 3761-70, 2008.

P. PERUCCA, O. CAZZALINI, M. MADINE, M. SAVIO, R.A. LASKEY, V. VANNINI, E. PROSPERI, L.A. STIVALA.
Loss of p21 CDKN1A impairs entry to quiescence and activates a DNA damage response in normal fibroblasts induced to quiescence.
Cell Cycle, 8(1), 105-14, 2009.

M. SAVIO, T. COPPA, O. CAZZALINI, P. PERUCCA, D. NECCHI, T. NARDO, L.A. STIVALA, E. PROSPERI.
Degradation of p21CDKN1A after DNA damage is independent of type of lesion, and is not required for DNA repair.
DNA Repair, 8(7), 778-85, 2009.

LAPPANO R, ROSANO C, MADEO A, ALBANITO L, PLASTINA P, GABRIELE B, FORTI L, STIVALA LA, IACOPETTA D, DOLCE V, ANDÒ S, PEZZI V, MAGGIOLINI M.
Structure-activity relationships of resveratrol and derivatives in breast cancer cells.
Mol Nutr Food Res, 53(7), 845-58, 2009.

M. SAVIO, T. COPPA, L. BIANCHI, V. VANNINI, G. MAGA, L. FORTI, O. CAZZALINI, M.C. LAZZE', P. PERUCCA, E. PROSPERI, L.A. STIVALA
The resveratrol analogue 4,4'-dihydroxy-trans-stilbene inhibits cell proliferation with higher efficiency but different mechanism from resveratrol.
Int J Biochem Cell Biol., 41, 2493-2502, 2009.

CAZZALINI O, DONÀ F, SAVIO M, TILLHON M, MACCARIO C, PERUCCA P, STIVALA LA, SCOVASSI AI, PROSPERI E.
p21CDKN1A participates in base excision repair by regulating the activity of poly(ADP-ribose) polymerase-1.
DNA Repair (Amst)., 9(6):627-35, 2010.

CAZZALINI O, SCOVASSI AI, SAVIO M, STIVALA LA, PROSPERI E.
Multiple roles of the cell cycle inhibitor p21(CDKN1A) in the DNA damage response
Mutat Res., 704(1-3):12-20, 2010.

COPPA T, LAZZÈ MC, CAZZALINI O, PERUCCA P, PIZZALA R, BIANCHI L, STIVALA LA, FORTI L, MACCARIO C, VANNINI V, SAVIO M.
Structure-Activity Relationship of Resveratrol and Its Analogue 4,4'-Dihydroxy-Trans-Stilbene Toward the Endothelin Axis in Human Endothelial Cells.
J Med Food. 2011 May 9.

STIVALA LA, CAZZALINI O, PROSPERI E.
The cyclin-dependent kinase inhibitor p21CDKN1A as a target of anti-cancer drugs.
Curr Cancer Drug Targets. 2012 Feb;12(2):85-96.

MACCARIO C, SAVIO M, FERRARO D, BIANCHI L, PIZZALA R, PRETALI L, FORTI L, STIVALA LA.
The resveratrol analogue 4,4'−dihydroxy−trans−stilbene suppresses transformation in normal mouse fibroblasts and inhibits proliferation and invasion of human breast cancer cells
Carcinogenesis, 2012, DOI: 10.1093/carcin/bgs244

Book Chapters

Alterazioni della funzione circolatoria: i vasi
STIVALA LA, VANNINI V
Patologia generale, Casa Editrice Idelson-Gnocchi, 2012
ISBN: 978-88-7947-542-6

Project Title:
DNA damage induced by photodynamic molecules (Fluoroquinolones) and its mechanism.